Louise Desoeuvre's AW/20 collection 'Magnificence of the East' is inspired by her Russian and Breton heritage. It is an emotional and powerful tribute to her great-grandfather, Ivan Ivanovitch, a Cossack, obligated to leave Russia during the revolution in the early 20th Century. Her Russian family lived in Caucasia near the Black Sea. Ivan and his brother, Vassili Ivanovitch, survived and fled to France, leaving everything they had behind them. The only things the two brothers could take with them were a small box containing Russian soil and silverware. They lost everything but always kept their dignity. Louise was inspired by their strength, resilience and elegance to create powerful designs.

The 'attitude' of the collection is conveying Ivan Ivanovitch's energy, even though it is a womenswear collection.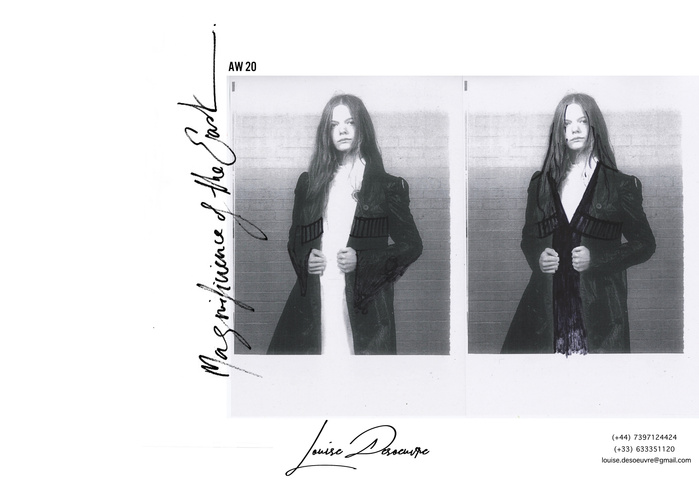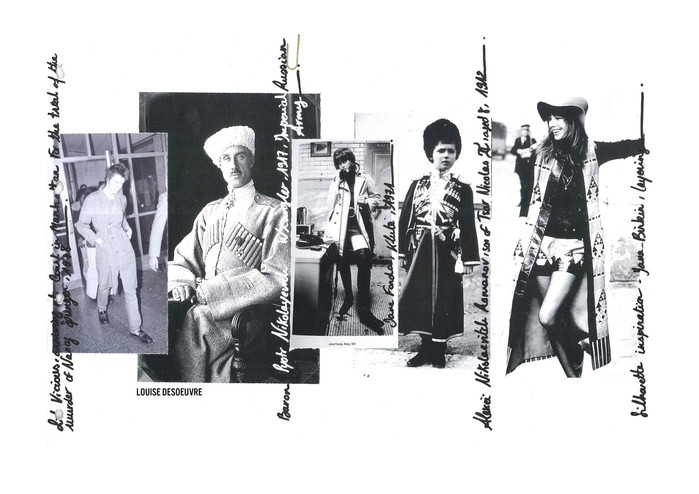 After coming to power, the bolsheviks set up a campaign of repression, trying to eradicate the Cossacks as a reactionary force opposed to communism. Under the communist regime, most of the Cossacks were exiled to Siberia, the most rebel were executed. Some of them remained and were the guardians of the traditions. Their culture survived in traditional songs, dances and horse riding techniques known around the world. The Cossack's motto, 'for Faith, Tsar and Fatherland' led Louise to explore Russian archives and research digitised manuscript archives from the past centuries in order to design garments inspired by religious and military dress.
With a passion for archives and story-telling, Louise aims to create garments for elegant, strong and audacious women. She often uses menswear as an inspiration. The key silhouettes of her Graduate Collection are deeply inspired by Cossack military uniforms and fluid peasant blouses with oversized bishop sleeves.
Organza blouses and dresses brings sheerness and fluidity, contrasting with structured military pieces. The collection has been created to empower women through structured and sheer garments.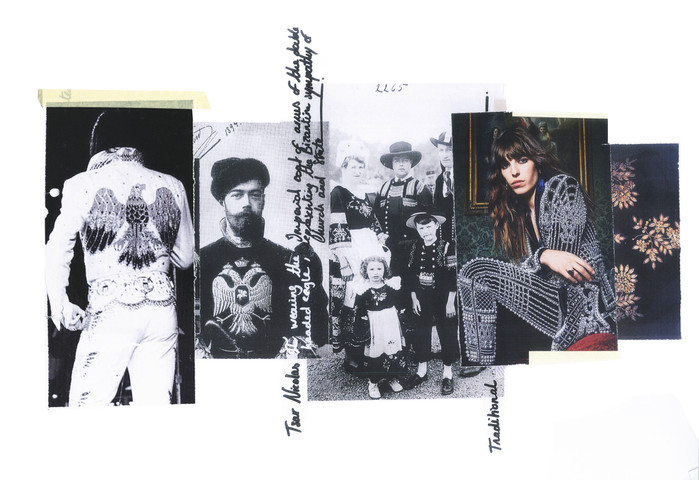 The Breton elements are a 'clin d'oeil' to Louise's Great-Grand-mother Geneviève who was a strong independent woman too and still inspire her today.
Craftsmanship or 'savoir-faire' in French is extremely important to Louise. Her aim is to create thoughtful, timeless pieces that embodies the values of slow fashion. There is something sustainable about wearing the same piece for decades and eventually pass it on to younger generations. It is therefore imperial for the designer to aim for quality and emphasize the importance of craftsmanship.
All the garments are handmade and finished with hand stitching techniques. Each stud has been attached to the garments by hand, one by one. Digital embroidery was a good way to balance craftsmanship with modern technologies. Louise really wanted to enhance craftsmanship as much as possible because traditional Russian and Breton costumes / craft techniques are extremely detailed and well constructed.
Louise Desoeuvre is also very interested in 'Positive Fashion' and in the sustainable and ethical approach to Fashion, in a World where these values have been lost with the rise of fast fashion and where Europe has lost a lot of its craftsmanship over the last few decades. Louise want people to consider the value behind their clothes and appreciate the craftsmanship behind them.
The embroidery of the navy blue wool chasuble was inspired by a French book of hours from the 15thCentury found on the British Library's online archives. It reminds the importance of faith in the Cossack's lives as their motto is 'For Faith, Tsar and Fatherland'. Louise also developed an embroidery of the coat of arms of the Russian Empire, representing the double-headed eagle and Saint George the Victorious on horseback killing a serpent with a spear on the central shield. This embroidery has an important meaning, it reminds the greatness of the Russian Empire before its tragic end.
The use of colour is very important to Louise and has a meaning. Most of the colours were inspired by Russian and Breton archives. Louise has always been attracted by the beauty of Renaissance paintings, which often idealise the human body and highlight the importance of religion. She therefore investigated the paintings of Giorgione, Italian painter of the Venetian school during the Renaissance in Venice. Giorgione's figures are idealised and are characterised by a sweetness of expression emphasised by chiaroscuro. Chiaroscuro and Renaissance paintings from Titian and Bartolomeo Manfredi also inspired the colour palette of the collection. Louise wanted to use contrasting fabrics, bringing darkness and light together to remind her Great-Grandfather's story.